The Royal Government of Cambodia and Small Arms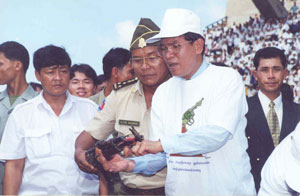 When in 1970, as a result of spill over from the Vietnam War, Lon Nol carried out a coup with American support, he brought decades of civil war to Cambodia. During this time over a million Cambodians died under the regime of the "Khmer Rouge". When in 1998 the fighting finally ended, the Royal Government of Cambodia found itself confronted with the proliferation of SALW in the country, in the hands of both security forces and the civilian population. The Royal Government, realising the negative impact of this proliferation on Cambodia's security, stability and development, embarked on a vigorous campaign to address this problem.
The Royal Government of Cambodia (RCG) undertook a series of measures to increase arms control and to recover illegal weapons.
In late 1998, the Municipality of Phnom Penh launched a weapons collection programme that was replicated by the Ministry of the Interior throughout the entire country*.
In 1999, the RCG issued sub-decree 38 on management and control of importation, production, sale, purchase, distribution and use of all kinds of weapons and explosives.
In 1999 the RCG issued Decisions no. 27 and no. 28, invalidating licences for carrying guns.
In 2000 the RCG created the National Commission for the Reform and Management of Weapons and Explosives in Cambodia. The National Commission, which is headed by Deputy Prime Minister Sar Kheng, is tasked with controlling the weapons and confiscating illegal weapons.
The Ministry of Defence issued directives to all its military bases across the country about the exact number of weapons they can retain and those that have to be destroyed under the Royal Government's programme
Between May 1999 and March 2000, the Royal Government publicly destroyed over 36,000 weapons.
Internationally Cambodia is playing a role as frontrunner in the management and reduction of SALW both in South East Asia and beyond.
In 2000, EU ASAC started its partnership with the Royal Government to set up an effective weapons management system. The funding of the European Union has been supplemented by grants from:
The Netherlands government (WfD and weapons safe storage)
The German government (police support and police training)
The British government (police support, including a Code of Conduct)
The Japanese government (development projects)
The Canadian government (police training)
---
*The strategies used for the collection of weapons from the civil population differed from province to province. Often, a sort of buy-back scheme was used, offering a small amount of money (between $2.50 and $5 per weapon) or a bag of rice for surrender of illegal weapons. When funds ran out for these schemes, the Royal Government applied for assistance from the international community to deal with the problem of SALW in the country.