Voluntary Weapons Collection from the Civil Population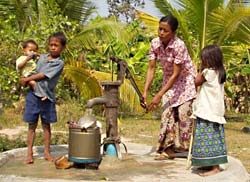 A Mother and her children collect water from a well built under the Weapons for Development program.
In 2000, when EU ASAC started its work in Cambodia, the transition from a post conflict society to a culture of sustainable peace, security and development was hampered by the possession of illegal weapons and explosives by the civilian population. EU ASAC supported the weapon collection efforts of the Royal Government of Cambodia through a strategy called "Weapons (in exchange) for Development" combined with a police capacity building project to provide security after people turned in their weapons and to improve police-community relations
Weapons for Development
In 2001 and 2002 in Snuol District, Kratie Province[1] and Bakan District, Pursat Province[2], EU ASAC implemented pilot projects using community-owned development incentives such as water wells and schools to encourage the voluntary hand in of weapons. EU ASAC did not use the practice of a direct exchange of weapons for cash (a buy-back scheme) and set up its programme to demonstrate the progressive link between peace, security and development. This lies at the heart of the WfD philosophy.
Police Support
Increasing local confidence in the ability of the security forces is also vital. EU ASAC has provided technical support and good governance training to local police forces and income generation training to their families to help build this confidence. Weapons handed in to the authorities were destroyed in local Flames of Peace as a symbolic demonstration of the shift to a culture of peace. When the pilot project was concluded in November 2002, 5,661 weapons and 18,526 explosives had been voluntarily handed in to the authorities by the ten target communes.
By the end of 2002 EU ASAC had brought together representatives from the Training Department of the National Police, the Working Group for Weapons Reduction and national human rights NGOs to set up a training curriculum for the commune police officers to improve the relations between police and the community and to draft a police training manual.
In 2003, after the national elections, police in the provinces where EU ASAC supported weapons collection projects participated in a two-week training based on this curriculum. These training manuals are now used by the Training Department of the National Police in training of new policemen.
Local NGO Participation
In 2002, seven local NGOs conducted workshops and provided water wells in return for weapons in Pailin, Kampot, Takeo, Kampong Speu, Kampong Cham, Kampong Som and Battambang. Between May 2002 and May 2003, approximately 1,500 weapons were voluntarily handed in to the police by the civil population in the target areas.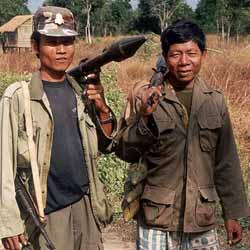 Two village men gather their weapons as part of a larger effort to destroy small arms.
Building trust between community stakeholders such as civilians, police and civil society was seen as the key to sustainable peace and security. In 2003, a nationwide police community relations training programme was implemented with support from GTZ. The cooperation between the Cambodian Ministry of Interior and Cambodian NGOs during the training made this programme unique in Cambodia.
In 2003 , EU ASAC supported local NGOs to conduct public awareness workshops in nine provinces; Kampong Thom, Kampot, Preah Vihear, Pailin, Battambang, Kampong Cham, Kampong Speu and Kampong Chhnang. When sufficient numbers of weapons were voluntarily handed in to the police, water wells were provided in return. In Preah Vihear province, EU ASAC cooperated with the Japanese Centre for Conflict Prevention in the implementation of a "Weapons for Development" project, which included a unique project to improve the income of the wives of policemen.
Due to increased security in Cambodia and a significant reduction in the numbers of weapons collected EU ASAC ended its direct involvement with weapons collection activities at the end of 2003.
Capacity building of the Commune Councils in matters of security and specifically weapons security.
In 2004, in co-operation with the Department for Local Administration, EU ASAC set up a project to train commune councils and provide capacity to work on security and the problems illegal weapons in the community may cause. This complemented the police trainings as both programmes were aimed at improving co-operation between the police, the community and the commune councils.
Commune Council training projects were completed in Battambang, Pailin, Pursat and Kampong Thom.