Registration and Safe Storage

Registration and Safe Storage of Military and Police Weapons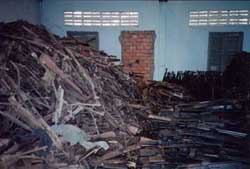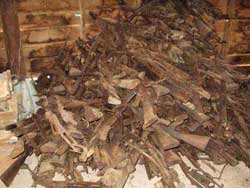 Unsecurely stored weapons.
Cambodia's protracted civil war and economic collapse left the military and police forces with incalculable numbers of weapons and explosives in insecure conditions. Such conditions encouraged theft, illegal use, illegal sales in Cambodia and abroad and potentially lethal accidents. With EU ASAC support, the Royal Government has begun to register and safely store military and police weapons for the first time.
Ministry of National Defence Weapon Registration and Safe Storage Programme
Militarily, Cambodia is divided into six (6) regions. A region typically covers three to six provinces.
In 2001 EU ASAC conducted a feasibility study for a Registration and Safe Storage pilot project for the Cambodian Ministry of Defence in Military Region 2.
The initial visits to storage facilities assessed the suitability of the then current storage facilities and the numbers of weapons being stored there. The photos above show the problems with those storage facilities:
No formal mechanisms for registering numbers, types and condition of weapons
No records of any of the above
Weapons stored alongside various types of explosives including mines, mortars, grenades and ammunition
Weapons stored in buildings without adequate security
Following the feasibility study, it was decided to implement a pilot project in 2001 in Military Region 2. This project facilitated the construction of 4 safe stores, the design of a unique computerised, centralised registration system and the training of 16 personnel in its use. 13,500 military weapons were registered and securely stored with potential for 5,000 more.
In 2002, a a similar project Military Region 5 saw the construction of safe storage facilities in Battambang, Pailin and Banteay Meanchey with a capacity of 24,000 weapons. In the same year, a number of large depots around Phnom Penh were renovated to meet international storage standards.
In 2003, a registration and safe storage project (PDF 1.4 MB) in Military Region 4 was implemented with support from the Netherlands government. Safe storage facilities were built in Military Region 4 Siem Reap, Division 2 Banteay Srei, Brigade 12 Preah Vihear and Sub Kampong Thom. These buildings were officially opened by the Minister of Defence Tea Banh on 30 March 2004.
In 2004 registration and safe storage projects were implemented in Military Region 1 and Military Region 3. In 2005 two more projects were implemented. The Royal Gendarmerie received on new national depot with racks for short-term storage for all Gendarmerie posts in all twenty-four provinces. The 2005 project with the Special Military Region involved building thirteen depots for the various units and battalions that comprise this Region.
The final project in 2006 was with the Royal Air Force and the Royal Navy. The Royal Navy received two depots, one in Phnom Penh and one in Ream, while the Royal Air Force had one depot built.
Training was an important element of the Safe Storage project. In each project Unit Commanders attended a three-day training course in weapons management. This was followed by a ten-day training course in weapons management for High Level officers from the Region involved. A fifteen-day training course on Weapons Management and Registration was held for the logistics officers and finally a ten-day course for computer operators was organised to teach computerised database management. During the six years of the EU ASAC project training was given to 295 High Level officers, 714 Unit Commanders and 757 Logistical officers.
All weapons surplus to military requirements were publicly destroyed in Flame of Peace ceremonies. When the EU ASAC project closed at the end of June 2006 all small arms and light weapons held by the Ministry of National Defence had been registered and securely stored. The problems encountered during the Feasibility Study of 2000 had all been solved and the Ministry of Defence had implemented a weapons registration and safe storage project that brought its storage facilities up to internationally acceptable standards.
The following Table gives a summary of the results of EU ASAC's Registration and Safe Storage project:
| | |
| --- | --- |
| 47 | Storage depots constructed or renovated |
| 3,475 | Lockable Weapons Storage Racks installed in offices and barracks |
| 7 | Training courses for High Level Officers |
| 8 | Training courses for Unit Commanders |
| 9 | Training courses for Logistical Officers |
| 7 | Computer courses for computer operators |
| 54 | Computers supplied for weapons registration |
| 54 | Printers supplied for weapons registration |
| 40 | Photocopiers supplied for weapons registration |
Ministry of Interior Weapon Registration and Safe Storage Programme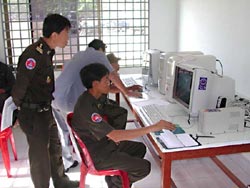 Military officers learn to use the weapons registration database.
In 2002, a registration and safe storage feasibility study for the National Police was conducted in three provinces: Phnom Penh, Kandal and Kompong Spue.
In 2003, a three-province pilot project in Phnom Penh, Kandal and Kompong Spue registered all duty and reserve weapons on a specially designed computer database and provided all police posts in the target area with specially designed short term secure storage racks.