| | | |
| --- | --- | --- |
| Weapons Destruction | | |
Weapons Destructions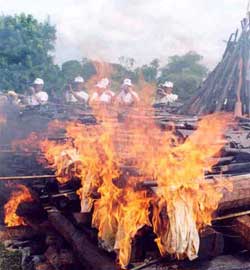 The lighting of the Flame of Peace in Battambang to signify the completion of the MND MR5 Safe Storage project. Deputy Prime Minister Sar Kheng presided over the ceremony which publicly destroyed 3,458 surplus military weapons.
In 1999, Cambodian Prime Minister Hun Sen initiated a programme of public weapons destructions with the crushing of 3,855 weapons in the Olympic stadium in Phnom Penh, stating that he hoped that the event represented "a day of action towards a culture of peace, towards a Cambodia free of violence and crime". Over the next year, the Royal Government of Cambodia publicly destroyed a total of 36,505 weapons in seven provincial ceremonies.

In 2001, EU ASAC restarted the programme of public weapons destructions using large bonfires to completely destroy thousands of weapons at a time. These public ceremonies are known as Flames of Peace and were first used as a destruction method in Mali in 1996.

The Flame of Peace programme can be broadly divided between two categories: public destruction of surplus military weapons and public destruction of illegally held weapons collected from the civil population. The surplus military weapons fall under the authority of the Cambodian Ministry of National Defence whilst weapons collected form the civil population fall under the authority of the Cambodian Ministry of Interior.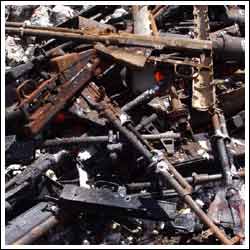 After thirty-six hours in the Flame, the weapons have been reduced to nothing more useful than scrap.
Merely collecting weapons is not enough to guarantee their removal from society, or prevent their sale to other regions. Publicly destroying surplus and collected weapons is the only truly effective method of addressing their destabilising effects

Between 2000 and 2006 EU ASAC gave financial and technical assistance to the Royal Government for the organisation of dozens of public Flames of Peace ceremonies in twenty of the twenty-four provinces of the country. EU ASAC assisted in the destruction of over 142,000 weapons. (For the full list see Destruction Table). Flames of Peace ceremonies raise local awareness and demonstrate to the international community that Cambodia is moving toward sustainable peace and security. Every weapon is checked by an expert before destruction and between 65% and 80% of the weapons are operational. Weapons not in working order can easily be cannibalised for working parts.

EU ASAC has produced a complete Modus Operandi for implementing a weapons destruction ceremony as a result of the lessons learned during the implementation of the destruction component of its weapons management programme.